Keynote Speaker - Beth Kerttula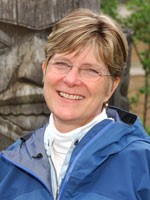 Beth Kerttula is the Director of the National Ocean Council, where she oversees the Council's efforts to implement the National Ocean Policy. In this capacity, she also works closely with stakeholders and with the nine marine regions to facilitate regional marine planning and other ocean management activities. She came to that position from Stanford's Center for Ocean Solutions, where she was a visiting fellow working to bring together policymakers from multiple disciplines to discuss the critical interplay of oceans, climate change, and society. She is a 15-year veteran of the Alaska House of Representatives, where she served as Minority Leader from 2006 to 2013, and has held positions in the State of Alaska Attorney General's Office.
Beth was the original sponsor of landmark cruise ship pollution legislation as well as other important environmental bills. She also led efforts to defend and improve the Alaska Coastal Zone Management Program and supported research efforts by the University of Alaska on ocean acidification and community sustainability. Beth was also a member of the State of Alaska's first Arctic Policy Commission, which created Alaska's first Arctic policy recommendations for the state legislature.