Registration Information
Online registration is now closed. Walk-ins are welcome and will be accepted onsite at the Oregon Convention Center. Please see the registration desk onsite at the conference for changes to existing registrations and the purchase of additional ticketed events. Registration Desk Hours:
Sunday, 8 November................1:00 – 6:30 pm
Monday, 9 November...............7:00 am – 5:00 pm
Tuesday, 10 November.............7:30 am – 5:00 pm
Wednesday, 11 November.........7:30 am – 5:00 pm
Thursday, 12 November............7:30 am – 5:00 pm
Join hundreds of your colleagues from around the country and the world for CERF 2015!
Registration Fees



Advance
Until 10/5/15
Regular
After 10/5/15
One-day Only


Member | Not a CERF member? Join now!

$425

$530

$265

Non-member

$560

$660

$400

Student

$180

$220

$95

Early Career Member Professional (1-3 years post-grad)

$360

$360

n/a

Early Career Non Member Professional (1-3 years post-grad)

$420

$420

n/a
Registration FAQ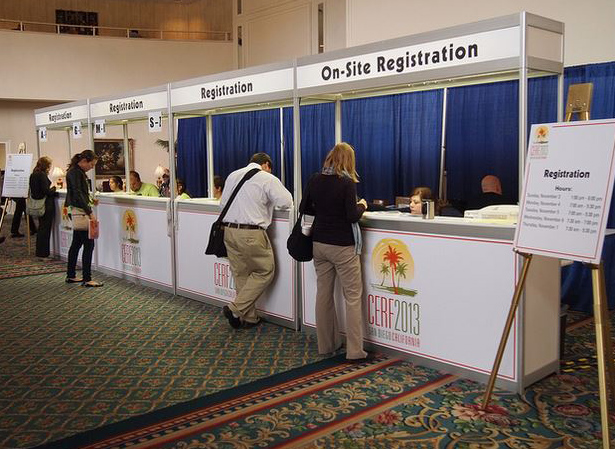 How do I login to the system to register?
Just click on the Register Now button at the top of this page and you will be taken to the registration login page. You will use your CERF login or register as a New User to complete registration. Please note that your CERF login is different than your login for abstract submission, as the abstracts are managed on a different system.
Do I have to be a CERF member to register/attend?
No, you don't have to be a member; however, CERF members receive a discounted registration rate which more than covers the cost of membership. Plus you get a full year of CERF membership benefits! To take advantage of the discount, join or renew now if your membership has expired.
Can I register multiple attendees at one time?
No. All members have personal user IDs and passwords so they must log in and register separately to get the member rate, and non-members are also identified by individual emails and must register separately. If you have information to register for multiple people, please make sure to log out and log back in after each registration, otherwise you will overwrite the prior registration.
Can I register guests?
For the 5K Fun Run, Field Trips, and Punch Bowl Social, you may register up to one guest for each event during your online registration. If you need to register more than one guest for a given event, please contact the CERF office for assistance.
Am I able to register for the additional events after I have already completed my conference registration?
Yes. If you choose not to register for the additional events at this time (such as the Women in Science Lunch, 5K Fun Run, Punch Bowl Social, workshops and field trips), you may add them to your registration at a later date by contacting the CERF office. However, we encourage you to sign up for events in advance, as some events hold a limited number of participants and may reach their capacity before you join.
Can I pay with a credit card?
Yes. We accept Discover, Mastercard, and Visa. Payment may also be made by check or wire transfer. Checks can be mailed to the CERF Office after submitting your registration form. Please contact the CERF office at [email protected] if you require wire transfer information, and only use this method if you are unable to pay by credit card or check.
Registrants must pay in advance of attending the conference. Please contact the CERF Office at [email protected] if you encounter a problem with your payment.
What is the cancellation/refund policy?
All cancellations must be submitted in writing to CERF. A $75 processing fee will be charged for all cancellations received by October 16, 2015. No refunds will be made on cancellations received after October 16, 2015. Substitute attendees will be permitted. No refunds can be made by CERF for lodging, airfare, abstract submission, or any other expenses related to attending the conference.
I need to obtain a travel visa. How can I receive an official letter of invitation?
To request an Official Letter of Invitation, please email your full name, address, institution/affiliate name and email address to [email protected]. If you are making an oral or poster presentation, please include the title and presentation date/time for your abstract. Once processed, a signed letter will be emailed to you. If you need an original sent to you via post, please indicate so in your email request.
Whom can I contact if I have further online registration questions?
Please contact the CERF office at [email protected], or call 206-209-5262 if you have additional questions.
What if I have additional questions?
Please contact the office at [email protected], or 206-209-5262.